Duo Leleu Brothers Saturday, June 10, 2023 at 7:30 PM MDT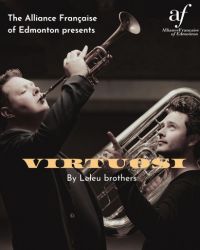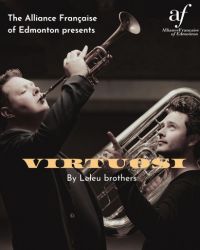 You've selected
Saturday, June 10, 2023 at 7:30 PM MDT
×
VIRTUOSI by leleu brothers
An incredible trumpet and tuba duo in Edmonton!
The Alliance Française of Edmonton, in partnership with the Alliance Françaises of Canada and the Embassy of France in Canada, has the honor of presenting the concert "VIRTUOSI" by the Leleu Brothers.
Romain and Thomas Leleu, both elected to the Victoires de la Musique Classique (respectively in 2009 and 2012), come together as a duo to share with you an intimate, unique and warm musical moment!
In their program "Virtuosi!", listeners navigate through different universes and are invited to share the fraternal complicity of Romain and Thomas, serving music.
Accustomed to large stages and international festivals, the two virtuoso brothers benefited from the 2020 lockdown to develop this unique project, long requested by the public and programmers.
Venue
Festival Place
100 Festival Way
Sherwood Park AB T8A 5T2